Typically shopping is a leisure activity and one that is exciting! Unfortunately shopping for Auto Insurance is isn't fun nor is it relaxing. Unless you go with the first policy you are likely to dedicate at least a few hours of your day just to getting quotes. The goal of this infographic is to give you a baseline, should you have one of the aforementioned card. Should you have one of these cars and you are paying substantially higher, perhaps you should look into changing policies. If you do not have one of the aforementioned cars and you are still curious, visit compare.com or QuickQuoteFinder.com and compare auto insurance in a fraction of the time.
Read More
When it comes to picking cheap auto insurance, sometimes it's just easiest to go with what your friends use, or the company whose commercial you've seen the most on TV lately. But that's probably not the best idea. Like any business, insurance companies all have different rates, plus they can vary greatly in everything from their coverage to their office hours to the speed of their claims service. So, shopping around is essential to getting a good deal, and the proper coverage and service for you.
But don't walk into the process blindly. You have to know what questions to ask when you're shopping around, because not every agent you speak with will give you in-depth info on their coverage and all of your options. The good ones will do that, but the not-so-good agents will only cover the basics. It's up to you to ask a wide range of questions so you can truly compare plans.
If you're like most people, though, you're not an expert and don't even know what you need to know about insurance (how's that for confusing?). Keeping the following list of 7 questions close by can keep you on track while researching insurance companies and will help you choose the policy that's right for you. Here are some great auto insurance sites to help you get the best possible auto insurance rates for you.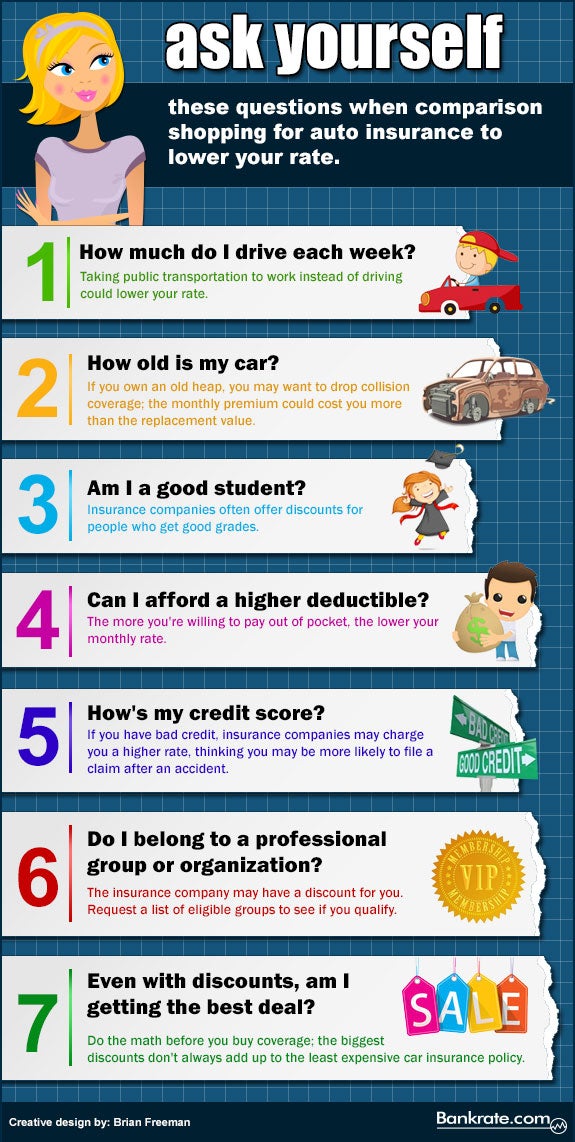 Read More